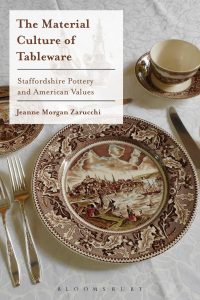 This website gives a chronological, pictorial history of tableware made by Johnson Brothers, a Staffordshire maker which was for many years the largest and most successful exporter of British pottery to the American market.  The wares it produced were representative of what was being manufactured by dozens of other potteries such as Meakin, Grindley, Adams, Myott, and Wedgwood.  These tableware patterns reflected the aesthetic values of their respective time periods, showing what the purchasers considered to be beautiful or stylish.  In addition, they manifest often-idealized notions about American history and national identity.
The website presents a selection of tableware patterns grouped according to their general time period of production, in the pages numbered in the Table of Contents of this website.  Within each page, patterns will be listed alphabetically.  The date given for each pattern represents the approximate year when the pattern was introduced.  Clicking on each image will open up an enlarged view.  A Pattern Index also lists every pattern featured in the website, with the number of the page in which its image appears.
More information about each pattern, and how it reflected the design trends of its era, may be found in the book The Material Culture of Tableware, Staffordshire Pottery and American Values (Bloomsbury Visual Arts, 2018).  The author of the book and of this website is Dr. Jeanne Morgan Zarucchi, Professor of Art History in the Department of Art and Design at the University of Missouri-St. Louis (USA).  Details of the book are at https://www.bloomsbury.com/the-material-culture-of-tableware-9781350359925/.  Dr. Zarucchi is solely responsible for the content of this website, including all text and images.  Comments or inquiries may be directed to her at zarucchi@umsl.edu.